9 Best Raised Garden Beds for 2021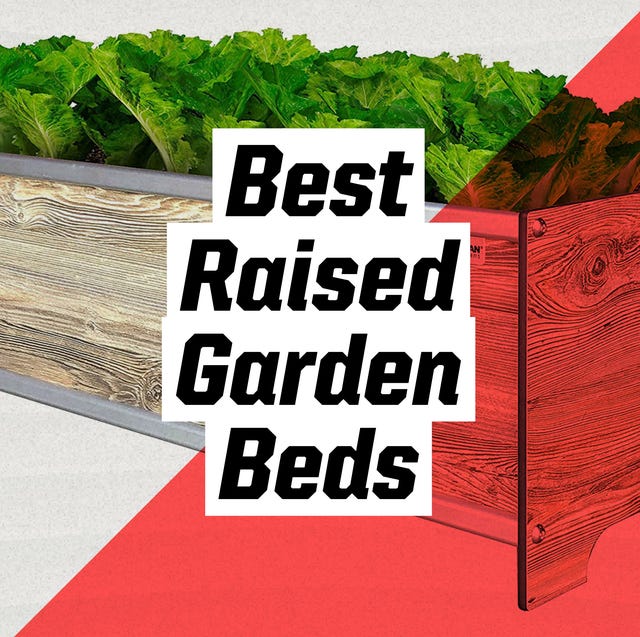 Staff
There's a long list of pros and few cons for using raised garden beds. They instantly make your garden look well-designed and organized by defining space and creating pathways, they help cut down on weeds and keep animals and critters away. Controlling soil quality and giving roots plenty of space to spread out are further benefits, plus they're better ergonomically than in-ground gardening and allow you to keep veggies and flowers on a patio, terrace, or screened-in porch. If you don't have the time or inclination to build your own garden bed, buying one certainly adds considerable cost, but they're relatively inexpensive and can ultimately save you time and energy.
What to Consider
Styles of raised garden beds range from utilitarian ground-level boxes to design-forward planters. The most common materials for raised garden beds are wood, metal and assorted plastics, including vinyl, laminates, and resin, though some are made from fabrics that can withstand the elements. Many are for indoor-outdoor use, which means that you don't need a huge plot of land to exercise your green thumb. Vertical planters are great for those who are more comfortable gardening standing up or seated, rather than bending down or kneeling. In terms of extra features, there are planters that have self-watering systems, greenhouse covers, storage shelves, locking wheels, and more.
How We Chose
Our selection comprises the most popular raised garden bed styles across multiple price points. All of our choices have at least four stars from customer reviews, with the majority of what we cover rated 4.5 stars or higher. The quality and durability of materials were top considerations that informed our decisions, and we included options in different sizes that work well with a variety of setups, whether you have a home with a large backyard or an apartment with a tiny balcony.
Advertisement – Continue Reading Below
1
Best Wood Option
Giantex Raised Garden Bed
Giantex
amazon.com
$64.99
This generously sized raised garden bed is a fantastic value, priced at $60. It's made from fir wood, with a handsome grain stained in a deep, rich brown. The interlocking corners of the 1-inch-thick boards are connected with wood dowels, which makes the piece sturdy. With roughly 32 square feet of space, there's plenty of room for multiple plants, but it isn't too large for a deck, patio, or balcony. Customers give it high marks, with an average 4.7 stars.
2
Best Metal Option
Best Choice Products Raised Garden Bed
Best Choice Products
amazon.com
$72.99
If you prefer a metal garden bed over wood, this is another highly rated option with good value and gets rave reviews, with an average 4.7 stars from nearly 650 customers. It's constructed out of corrugated steel that's powder-coated to resist corrosion, with a support brace in the middle to keep the sides from bowing out when the bed is full. The squared-off corners with shiny silver bolts add a decorative element and eliminate sharp edges that can scratch up your legs.
3
Best With a Cover
Raised Garden Bed and Greenhouse
COZUHAUSE
amazon.com
The zippered, see-through mesh cover that comes included with this raised garden bed adds considerable value for the price. It creates a mini greenhouse for regulating sun exposure and temperature to help your plants thrive, and it's easy to reach what's growing in the back because it unzips all the way to the top so you can fold back the front flap. The cover fits over a metal frame that attaches to the spruce raw-wood base with brackets, and there are plastic connectors that add extra support. There's also a drainhole in the middle of the base.
4
Most Stylish
Foreman Raised Garden Bed
Foreman
amazon.com
This stunning raised garden bed will add sophistication and style to any space, indoors or out. The modern, streamlined piece is made from durable laminate plastic, with a corrosion-resistant anodized aluminum frame and all-stainless steel hardware. It's available in four other equally attractive finishes and while it looks fantastic solo, it can also be paired with others and mounted on a wall. They're made in California and come with a 10-year warranty. 
5
Best Multitiered
Outland Living Raised Garden Bed
Outland Living
amazon.com
$159.79
If you want to grow a ton of vegetables but have space constraints, here's a way to do it—vertically. This multilevel raised garden bed gives you five planters suspended on a freestanding, sturdy black metal frame that opens like a stepladder. The planters are all 22 inches long, made of food-safe, BPA-free plastic (which doesn't have lead or mercury), and lock into place underneath the lip so they're secure. 
The piece gets an average 4.7 stars from more than 600 customers, and it comes in bright green and espresso brown in addition to the gray that's shown. 
6
For the Minimalist Gardner
Victory 8 Raised Garden Bed
Victory 8 Garden
amazon.com
$74.97
This option works well for those with a minimalist approach to gardening who want to grow a ton of vegetables. It's also a smart bet for first-time gardeners who want to try out their green thumb before investing in anything more involved. 
There's no assembly required: Simply unfold the 6-foot-long bed, fill it with soil, and you're good to go. It's made from a lightweight, non-woven fabric that's breathable and designed so that air reaches the soil and roots and extra moisture can drain. It's also UV-resistant and comes in multiple sizes.
7
For the Urban Gardner
Keter Raised Garden Bed
If you have a small balcony and want a raised garden bed that's streamlined and easy to maintain, this one is an excellent choice. It's made from resin textured to look like wood and has a relatively narrow profile and bottom shelf that's handy for storing supplies. A major highlight among features is its self-watering system, with a reservoir at the base and an easy-to-read gauge in the corner so you know when it needs refilling. It drains manually from a hole on the side. There's also a mini seed-sprouting tray included. 
8
Best for Herbs
Raised Garden Bed With Planter Boxes
FOYUEE
amazon.com
For serious cooks or aspiring ones, there's nothing like having fresh herbs at arm's length when preparing a meal. This raised garden bed is perfect for basil, oregano, mint, parsley—all of which are easy to grow—and any other herbs you use regularly. 
This lovely raised garden bed is made from rust-resistant, galvanized steel, with a lower shelf that has plenty of storage space. There's a handle and wheels for moving to a sunnier spot in the yard and a drainage hold in the middle of the base. Also, the 12 herb containers are detachable, which makes it easy to take herbs indoors to use.
9
Best With Wheels
Foreman Raised Garden Bed
Foreman
amazon.com
Here's another raised garden bed that's a standout for style. It's sturdy, made from sleek wood laminate—which won't rust or fade—with an anodized aluminum frame and all-stainless steel hardware. The bonus feature here is the set of four casters that lock, which means you'll never have to drag over a garden hose or haul a watering can across the yard. It's made for indoor-outdoor use, too, and wheels afford you both options.
This content is created and maintained by a third party, and imported onto this page to help users provide their email addresses. You may be able to find more information about this and similar content at piano.io
Advertisement – Continue Reading Below