'Chicago Tonight' in Your Neighborhood: Sauganash | Chicago News
Known for its architecture, Sauganash is on the National Historic Register because of its developers Koester and Zander in the early 1900s.
Today, it's a tree-lined community just inside the city on Chicago's Far Northwest Side. Some neighbors in Sauganash call it the suburbs within the city.
The Sauganash, Lincolnwood and Edgebrook area is known for its holiday lights, dating back to around the '60s, said Michelle Whatley, president of the Sauganash Community Association.
The organization gives ribbons to those who decorate their homes, and chooses winners for a variety of categories, from "most colorful" to "most electrified."
"We're a small community here in the kind of northwest corner of the city, but I think we're small and mighty and we do things big," Whatley said. "That's why people come out. We're known for the Christmas lights, our Fourth of July, our Halloween. Whatever it is, we do it big. It draws people in."
Sauganash resident Mark Desecki has been decorating almost every foot of his front yard for the last 16 years, collecting different pieces over the years.
Desecki's neighborhood growing up was known as "Candy Land," he said. It was where he first saw a Santa Claus decoration on the roof of a house. Now, he decorates every holiday.
"I enjoy it," Desecki said. "It's kind of my hobby."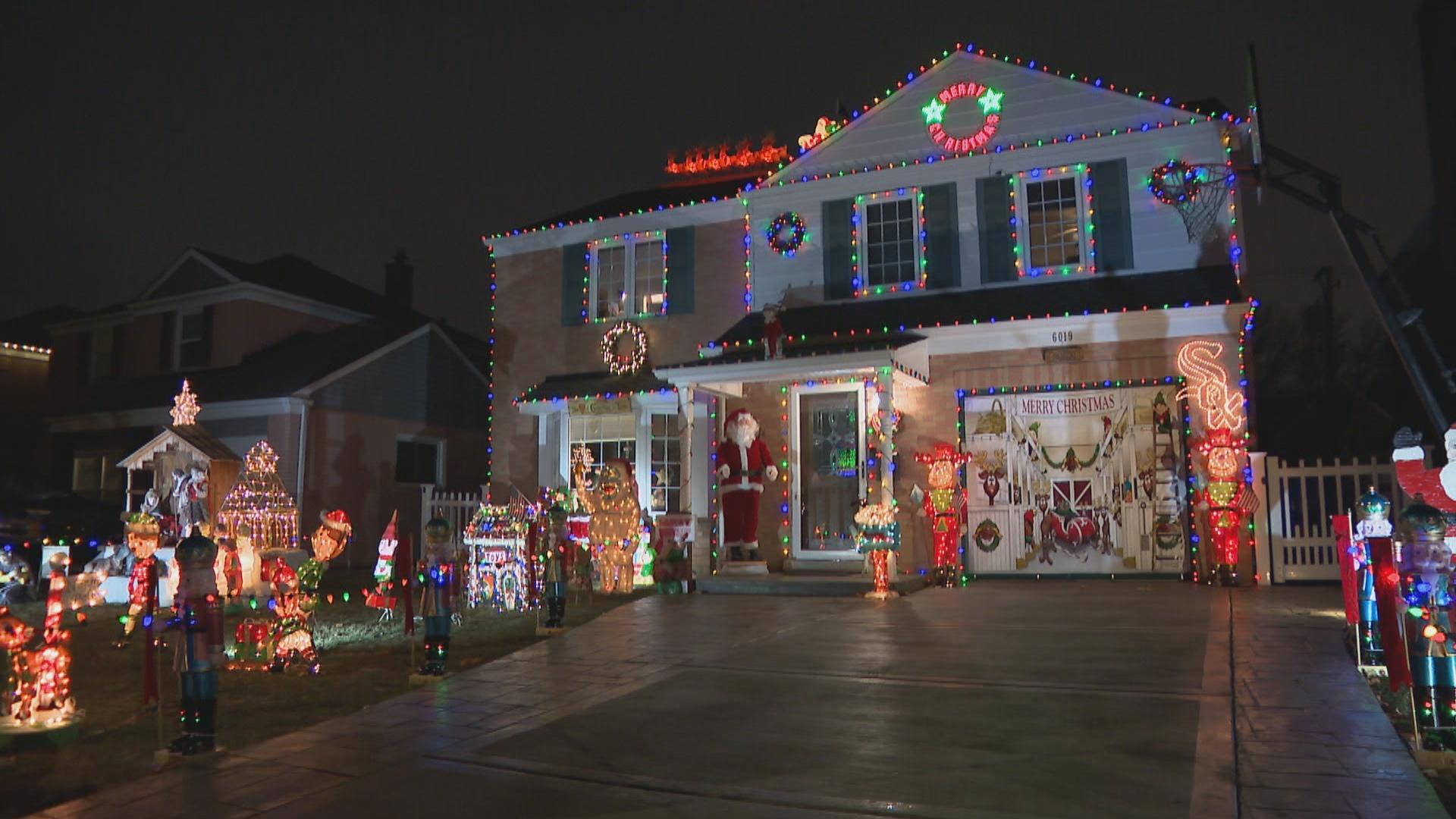 (WTTW News)

His yard has everyone from the abominable snowman, the Elf on the Shelf and the "Peanuts" gang, to Santa and a nativity scene. Desecki said it takes him a couple weeks to put up the decorations.
This year, he's noticed more foot traffic in front of his home as many people have been stuck inside.
Neighbors thank him for the decorations, he said.
"Especially the little kids that come by," Desecki said. "Like I said, that's kind of how I got hooked on it, when I was a kid doing it."
As much as Sauganash is known for its lights, so is its neighbor to the north, the Village of Lincolnwood, with sometimes even bigger displays. Desecki says there's no friendly competition, but everyone enjoys taking part in making the community brighter.
Some residents say the holiday lights have helped to make this season a bit more festive amid the coronavirus pandemic.
The 60646 ZIP code, which includes Sauganash, has an 8.4% positivity rate, compared to the city's 11.8%, as of Thursday. The economic impact of the virus, and restrictions to prevent its spread have been challenging.
Much of the business district in this area is along Cicero and Peterson avenues. The streets include a handful of restaurants, agencies for insurance and real estate, flower shops, with a couple of anchor businesses like the Smith Corcoran Funeral Home and Polish National Alliance.
Dennis Hammer, board president of the Edgebrook Sauganash Chamber of Commerce, said business is at only about 25-30% for those that depend on foot traffic, like restaurants.
"The interesting part is they're family owned businesses, so it's their family that works there," Hammer said. "So they may only have one or two employees. I know some have tried very hard to keep the employees that they have. They've limited their hours a little bit."
Cook County Commissioner Bridget Gainer represents the 10th district, which includes parts of Chicago's North Side, including Sauganash. She said the federal government needs to support small businesses with additional aid. 
Video: Our full interview with Cook County Commissioner Bridget Gainer.
"We're all looking to Washington because this is an absolutely unprecedented national event," she said. "We saw how when the first stimulus came through, it started to shore things up, people were working, commerce was taking place. Hopefully we're close, but Friday the government technically shuts down, and are they going to be able to get a deal before then? That is our clear expectation of the federal government."
However, one couple decided to open a restaurant during this pandemic, just two months ago.
The husband and wife owners of the Sauganash Grill both worked in downtown hotels and were laid off during the pandemic — so they decided to take a chance on something they'd always talked about.
"If you don't take a chance, you're not gonna know if something's gonna be better," said Glenda Munoz. "A lot of restaurants are closing, we are opening. People want to eat."
There are just two schools in this neighborhood: Sauganash Elementary School, which is part of the Chicago Public Schools district, and Queen of All Saints, which is an Archdiocese school.
Queen of All Saints has had in-person schooling all year. Sauganash Elementary school has been doing remote learning, though that could change in January. A community of families, many people in Sauganash are trying to decide whether to send kids to school for in-person learning.
Video: Our full interview with Michelle Whatley, president of the Sauganash Community Association.
Sauganash Elementary School Local School Council Chair and parent Elaine Fitzgerald said her family opted in for in-person learning when it begins — but every family is just trying to make the best choice for themselves.
"There's not one clear cut method to go back into school," Fitzgerald said. "There's no perfect option. It's a balance. It's finding harmony with the pieces that you have to play with."
Throughout the tough decisions she is making during the pandemic, Fitzgerald — like some other residents — said the holiday lights are helping to lift spirits this year.
"Whose not gonna smile staring at twinkling lights or a giant snowman," Fitzgerald said. "I think the Christmas lights. They've got a little different buzz to them this year. I think people are more interested in them. They bring a little bit of hope that's missing."
---
Community Reporting Series
"Chicago Tonight" is expanding its community reporting. We're hitting the streets to speak with your neighbors, local businesses, agencies and leaders about COVID-19, the economy, racial justice, education and more. See where we've been and what we've learned by using the map below. Or select a community using the drop-down menu. Points in red represent our series COVID-19 Across Chicago; blue marks our series "Chicago Tonight" in Your Neighborhood.
---